Story Russian special operation in Donbass and Ukraine
French President Emmanuel Macron announced on April 22 that 155-mm self-propelled guns would be sent to Ukraine as military aid Caesar. AiF.ru understood the disadvantages and advantages of this installation.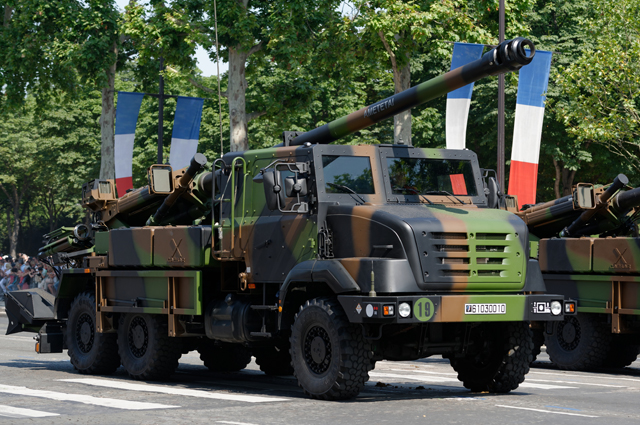 SAU Caesar. Photo: Commons.wikimedia.org
Development
This installation is a self-propelled analogue of the towed French 155-mm gun TRF1. The first sample of the new howitzer was shown to the military in 1994, and in 2000 they signed the first contract for the supply of vehicles for army trials.
By the way, the contract for the supply of five installations to the French armed forces on the chassis of the Unimog U2450L (6 × 6) car was signed with Mercedes-Benz. The first installations were delivered at the end of 2002.
Characteristics
Caesar is a wheeled 155 mm self-propelled howitzer with a barrel length of 52 calibers. It is available in 6×6 and 8×8 versions. For the first option, the length of the howitzer is 10 meters, and the width — 2.55. The 6×6 machine weighs less than 18 tons. The 8×8 installation already weighs 32 tons, has a howitzer length of 12.3 meters, a width — 3.1 meters.
The self-propelled guns themselves can transport up to 18 shells. As a rule, it is controlled by a crew of 5 people, although if the need arises, the self-propelled guns will be able to manage a prepared calculation of only three people. The cabin is armored and provides protection against bullets of up to 7.62 mm caliber and shell fragments.
The cost of self-propelled guns — from 2.9 to 5.2 million dollars.
By the way, in Ukraine there is an analogue of this self-propelled gun called "Bogdan", but in single quantities.
Armament
The installation is equipped with the Sigma-30 fire control system. It includes a radar for measuring the initial speed, a built-in ballistic control unit. Everything allows you to fully automatically direct the gun and feed shells. However, you can also do it manually. The maximum rate of fire of the gun — 6 rounds/min Guidance system drives — hydraulic (main) and manual (auxiliary). For firing, high-explosive fragmentation, cluster, smoke, lighting shells, active-rocket shells, as well as anti-tank guided shells are used.
Advantages
One of the main advantages of this installation — long range — up to 42 kilometers, although some sources say about 40 km, and others about 46. In addition, Caesar self-propelled guns do not require constant repairs, which is very convenient in conditions where it is not possible to quickly get spare parts. Power reserve — over 600 km. And the car also has an air conditioning system.
Ay, "Caesar"!
Formally, this is an all-terrain vehicle, but military experts are inclined to believe that self-propelled guns will simply get stuck on impassable roads. In addition, the installation has no protection against enemy shells and a small amount of ammunition — 18 shells in total.
Another problem may arise with this ACS. It is designed for 155 mm shells, while the artillery of the Soviet army and the Warsaw Pact countries used 152 mm. Ukraine does not have enough of these shells. It turns out that ammunition for this weapon will have to be delivered from afar, and a lot of them will be needed. And problems can arise quite unexpectedly, recently, for example, Switzerland refused a request from Germany to transfer ammunition for the German Marder infantry fighting vehicles to Kyiv. Finally, the APU will take time to train people to use Caesar, which can take up to six months.
Other customers
Caesar is exported to seven countries, including Ukraine. Since 2008, 77 of these self-propelled guns have equipped French artillery units. In Denmark, on March 14, 2017, the victory of the French self-propelled gun in the tender was announced, and on May 25, 2017, a contract was signed with the developer for the supply of 15 self-propelled guns. These guns were deployed by France in Afghanistan, Iraq and the Sahel. They were ordered Saudi Arabia, Indonesia, the Czech Republic and even Thailand.
Source:
https://www.ouest-france.fr/europe/france /la-france-va-livrer-des-canons-de-155-mm-a-l-ukraine-d94045ea-c219-11ec-8207-1f0e356db714