Plot RF special operation in Donbass and Ukraine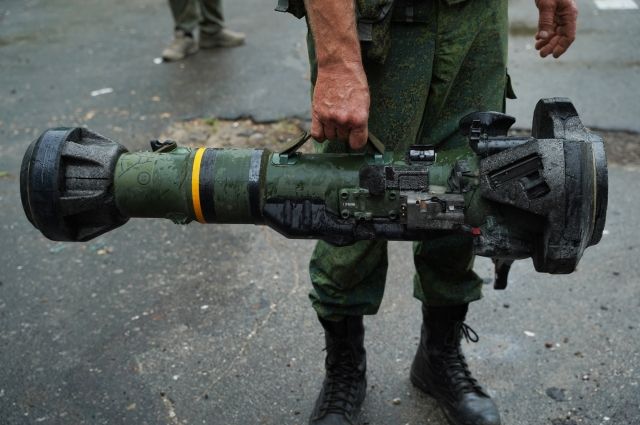 Fighting, as you know, is not a weapon. People are fighting. Even the most advanced weapon will be just a pile of metal if it falls into the hands of personnel who do not know how to use it.
Problems with technical support
Take, for example, anti-tank missile systems " Javelins, which have become a symbol of American military assistance to Ukraine. Quite funny things often happen to them. For example, the United States, having supplied Kyiv with more than 5,000 sets of this expensive (for 246 thousand dollars apiece) weapons, they didn care to properly translate the instructions for using Javelin" into Ukrainian.
American instructor Mark Haywardrecently told the Washington Post about his work in Ukraine: "Ukrainians have an urgent problem. Their "Javelin" didn't work and nobody in the unit could solve it. Two Americans helped, who brought the ATGM into working condition, using parts from the remote control for some video game. Their other complex was considered broken, until it turned out that it was simply misused. The instructions were in English, which none of Ukrainians knew, and Google Translate translated it incorrectly».
One of the reasons why military personnel of the Armed Forces of Ukraine prefer good old Soviet weapons to advanced foreign weapons, thus, lies in insufficient "customer support". There are other difficulties with the use of foreign military equipment in Ukraine.
The problem of timing
Old Soviet weapons also have disadvantages. It breaks down due to hostilities, but the main trouble is in this. Artillery systems, of which a huge number remained in Ukraine after the collapse of the USSR, are simply running out of ammunition. A little later, they will also run out in those countries where they have been stored in warehouses since the times of the Warsaw Pact. And new such shells, except in Russia, are not produced anywhere else.
"If the fighting drags on, — writes CNN, — Ukraine will become increasingly dependent on Western arms supplies. But there are also difficulties with transition to NATO standards. Training soldiers to use new weapons takes time. At this time, the soldiers will be absent from the battlefield, where they are so needed. In some cases, Ukraine prefers not to use the unfamiliar Western weapon systems at all. For example, the Armed Forces of Ukraine receive hundreds of Switchblade kamikaze drones, but some units prefer to use civilian UAVs equipped with improvised explosive devices. It is believed that commercial drones are easier to control».
President of Ukraine Volodymyr Zelenskyrecently said: "We have enough weapons, but we we we don't have enough weapons that operate at the distance we need to overcome the advantage in technique of the Russian Federation." To rectify the backlog of Ukraine in long-range weapons could, for example, the HiMARS multiple launch rocket system (MLRS), for the supply of which Kyiv has been asking the United States for several weeks. She was included in the next package of assistance to Ukraine. But training in the use of this system only passes a small group of military personnel of the Armed Forces of Ukraine, and it takes 3 weeks. So far, not a single specialist trained for HiMARS has arrived in the combat zone.
In addition, the US military is concerned about the following circumstance. As the Russian special operation continues, regular military personnel are killed or injured, their places are taken by reservists who are much worse prepared. And after all, soon it will be in their hands that the most western weapons that will be used in the eastern regions of Ukraine. The proximity of battlefields to Russia's borders also strains the US military. Capturing it with subsequent study is not ruled out.
Rate the material