Weekly "Argumenty i Fakty" No. 25. Tariff drives the wave 22/06/2022 Story National projects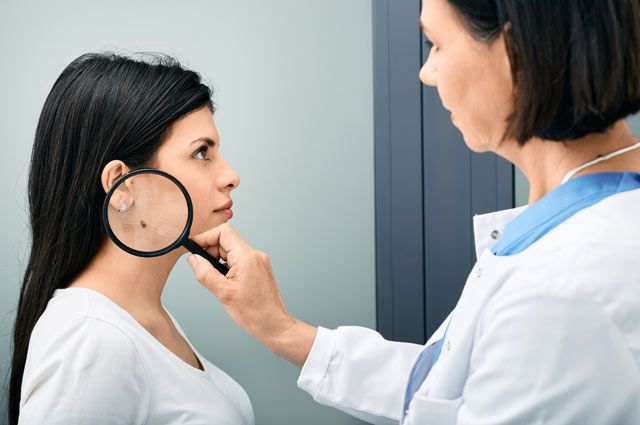 Medical examination of the entire country within the framework of compulsory medical insurance started in 2013, and later became an important part of the Healthcare national project. Every year it is gaining momentum. In 2021, almost 50 million adults underwent medical examinations.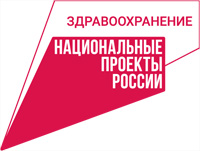 Let's make it clear right away: preventive medical examination and medical examination – they are not the same thing, although sometimes in everyday life these words are used as synonyms.
Medical examination – only part of the 1st stage of medical examination. As part of it, a patient is questioned, his blood pressure is measured, body mass index, waist circumference, blood cholesterol levels, relative (for all adults) and absolute (for patients 40 & ndash; 65 years old) cardiovascular risks are determined, fluorography and radiography of the lungs are done ( 1 time in 2 years), an electrocardiogram (at the first physical examination, and after 35 years 1 time per year) and intraocular pressure is measured (at the first medical examination and 1 time per year after 40 years).
The physical examination ends with a final visit to the doctor, who will analyze the results of the research, conduct a visual examination, ask the necessary questions and give recommendations (for women, a visit to the gynecologist is also provided).
All this is done to prevent or timely detect signs of diseases, the development of which a person may not even be aware of, as well as in order to receive preventive advice: how to reduce risk factors, what needs to be changed in the daily routine and diet, etc.
Clinical examination – this is a wider range of research and examinations. At its 1st stage, in addition to a preventive medical examination, screening is carried out to identify possible oncological diseases.
In people 18–39 years old, the skin, mucous membranes of the lips and mouth are examined once every 3 years, the lymph nodes and thyroid gland are palpated gland (for women, a cytological examination of a smear from the cervix is ​​also provided).
From 40 to 64 years, screening becomes very wide – it provides for a fairly long series of studies.
The 1st stage of clinical examination ends with the final reception of the therapist – he sums up the examinations and conducts preventive counseling.
But if along the way there are suspicions about the presence of the disease, in this case the patient will be sent to the 2nd stage of clinical examination. It is carried out to clarify the diagnosis, and a complete list of examinations and consultations is compiled depending on the identified ailments and the age of the person.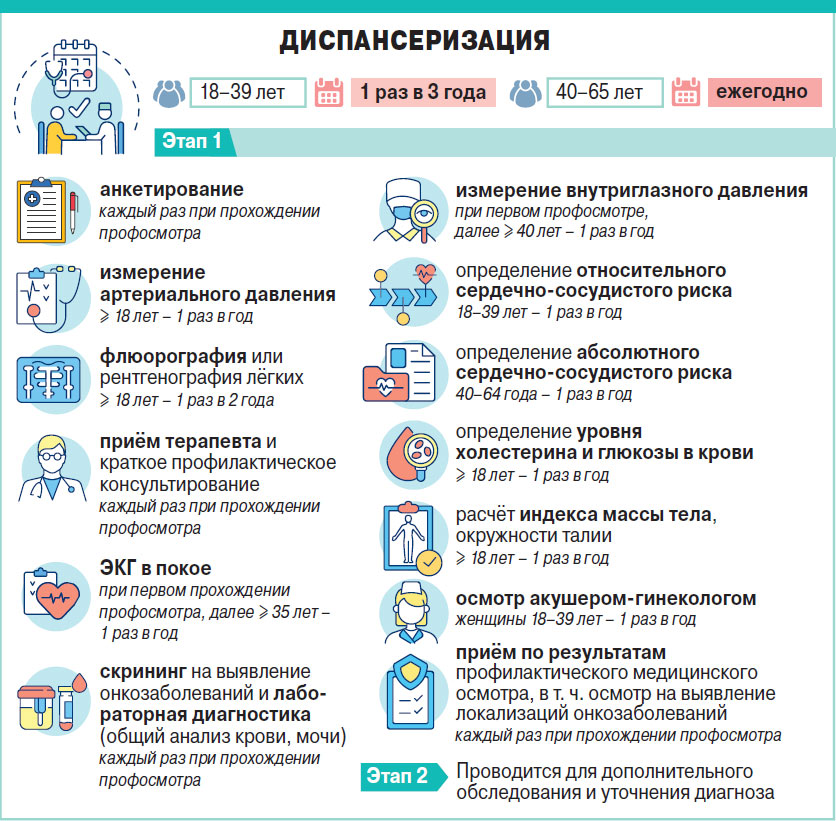 Clarify the details
Main goal
Main goal of medical examination – identify risk factors for health and disease that lead to premature death. Doctors divide them into 4 groups: diseases of the cardiovascular system, oncological diseases, chronic obstructive pulmonary disease and diabetes mellitus. The list of studies that must be completed at the 1st stage of medical examination for people over 40 years of age corresponds to these threats.
How often?
1 time in 3 years,
from the age of 40 (including working pensioners and pre-retirees) – annually.
Prophylactic check-ups are required
all adult patients annually.
Prophylactic examination and preventive examination are carried out free of charge at the clinic at the place of residence.
You can sign up online using the "My Health" service. on the portal of public services.
When going to the clinic, do not forget to take your passport and compulsory medical insurance policy with you.
Who is this year?
If your age is below 40 and this year you are so old that this figure is divisible by 3, then you need to undergo a medical examination. < /p>
In 2022 it is the turn of those born in the following years: 1983, 1986, 1989, 1992, 1995, 1998, 2001, 2004.
For those over 40, there is no queue. They have the right to an annual medical examination (by order of the Ministry of Health of May 6, 2019).
Exclusively voluntarily
The medical examination is carried out exclusively by voluntary consent. The patient may refuse any procedures and examinations – from this he will not lose the right to other studies and analyzes.
However, all sane people understand that they should not refuse, since medical examination plays a huge role in preventing serious illnesses, and the list of studies is based on medical practice and advanced scientific achievements.
The right to a day off
Federal Law No. 353-FZ of October 3, 2018 guarantees all employees the right to an additional day off to undergo medical examination. The employer must provide it once every 2 years while maintaining the place of work (position) and average earnings.
How will they remind you?
From the clinic at the place of residence or from the insurance company that issued the CHI policy , you should receive a message that you need to undergo a medical examination.
If it doesn't come, then you can go to the clinic's website, find a section on medical examination and clarify the possible time of arrival and room numbers . Or call your insurance company.
More useful information about the prevention, diagnosis and treatment of cancer can be found on the official website of the Russian Ministry of Health oncological diseases onco-life.ru.
Rate the material