Weekly "Argumenty i Fakty" No. 25. The tariff drives the wave 22/06/2022
Trouble came to farmer Korepanov, from where they did not expect: from 1 thousand ha of land, on which Alexander grows various crops, 200 are threatened take. Once waste, now collective farm fields suddenly became needed again…
And & nbsp; after all, in the early 1980s, the native village of Korepanov, founded in & nbsp; 1837, was wiped off the face of the earth. Houses were demolished by a bulldozer, people were transferred to neighboring villages. "Unpromising" Muvyr ceased to exist in documents and on maps. And couldn't understand who needs this?
He sat by the river bank, looked at the field, where until recently life was in full swing, and It was then that he promised himself to revive his small homeland. But what could a 20-year-old demobilization? Today "a young strong man" 61. And for half a lifetime he restores the village of Muvyr in the Igrinsky district of Udmurtia, on the bank of the Loza River. Immediately after the army, it was impossible to pull such a burden. Therefore, for ten years Korepanov lived in neighboring Zura. He helped his parents with the housework, studied in absentia at the Agricultural Institute. And & nbsp; all the time he kept saying: "We must return to Muvyr …" Father once couldn't stand it: "Well, how much more will you talk?"
tractor driver, machine operator, leader — and understood that I also want to connect life with the earth, — recalls Alexander. — My father brought me up not with words, but by personal example. I wanted to help him. I was proud of our village. And I couldn even imagine that someday it would disappear and I would have to resurrect it.
In 1992, he came with the father to the place of the destroyed Muvyr, where there was no roads, electricity, water and began to build a house. Friends twisted their fingers at the temple. But a year later, the entire Korepanov family (Alexander already had a wife and two daughters) moved to Muvyr. A couple more years later, they got their first neighbor. A 16 December 2008 a miracle in which "well-wishers" didn't want to believe it happened: the settlement of Muvyr was officially restored. He has a second birthday. And Korepanov's tears flowed again. From happiness.
Now in village Muvyr on st. Light 13 new strong houses. And more will soon appear: Korepanov puts up a log house for his youngest daughter, a neighbor — for son. A resident of Votkinsk, whose great-grandfather was born in Muvyr, also decided to move … So far, 40 people. But not a single random one. Everyone moved here consciously. And consciously stayed.
— Many people passed through Muvyr. Not everyone survived. The work in the village is hard. But to those who live here now, I am very grateful. With them — and in fire and in water. And in intelligence.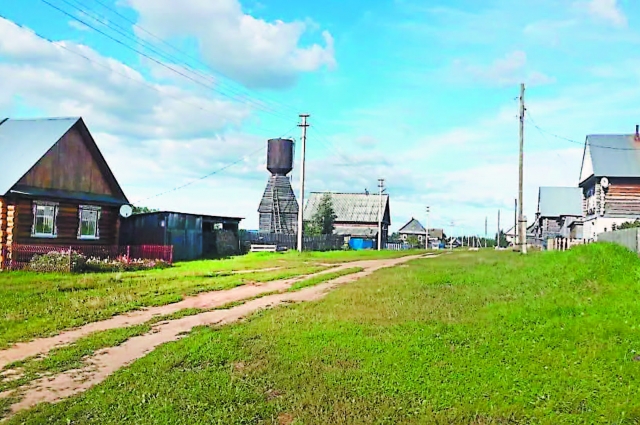 In the 1980s, Muvyr was sentenced to death, the houses were demolished by a bulldozer. And today 13 strong courtyards have been revived here. Photo: Photo from the personal archive of Alexander Korepanov
For everything in answer
At first, Alexander harvested wood, raised sheep, cultivated the land. Even got ostriches — to draw attention to & nbsp; the village. Now many people know the head of the farm Korepanov in Udmurtia. With the money of the residents, 4 km of gravel road were laid, equipment was purchased, two water towers were erected. A Alexander Gennadievich provides materials for building houses to migrants free of charge. Salaries in household — 25–30 thousand rub. Like a little. But workers get both grain and firewood for heating. The farm has 1 thousand ha of land — vegetable, herbal, grain crops are grown. But the trouble is: 200 of threatened are threatened to be taken away.
— We cultivated former collective farm fields — for 30 km from the village. Until recently, they were junk, and now they suddenly became needed. And I, if there were additional areas in the area, I would increase the number of livestock.
Korepanov does not lose heart, he tries to find a way out of any situation. And always hopes for the best. And how else? He is responsible for everything. For people (residents of other villages also work in Muvyr), for cattle. Total Livestock — 350 & nbsp; individuals, of which 150 & nbsp; & mdash; dairy cows. And for all products there is a buyer, even wholesale — natural farm people respect. It's time to open a cafe and feed tourists. Although it's not easy with them. There are few travelers in the Udmurt capital. And from Izhevsk to Muvyr 120 km. Not everyone is ready to make a detour for the scenery and trendy agritourism. The youngest daughter of Korepanov is engaged in attracting guests. When the pandemic began, Maria and her family left her job in Moscow and moved to Muvyr. And schoolchildren and adults rushed to the village, which has a cool playground, a rope extreme park, a cascade of stocked ponds, where you can sit not with a gadget, but with a fishing rod…
< p>— Our pride — suspension bridge across the river. On the shore — chapel in honor of St. George the Victorious. Batiushka serves on holidays. It's impossible without faith. They also organized a recreation center. We show the visitors a lady's slipper listed in the Red Book. Can you imagine what plant — a seed falls into the ground, and flowers appear only after 15 years.
25 years without vacation
Once upon a time, the fields around Muvyr were cultivated by Alexander's grandfather, who died during the Great Patriotic War. After him, Korepanov's father worked here. They are gone. But mum and sister live in the village. Here — eldest daughter with family. Previously she worked as a teacher. Now she has the whole dairy and processing.
— We are not eternal. You have to leave what has been done to someone. My mother is already in years. I remember asking: "What are you going to do today?" She smiled, "Don't worry, son, I have work scheduled for the week ahead." So I 25 years without a vacation. Today there is a meeting in the district, and and I have already gone fishing since the morning. They say: you can't press genes with your finger.
For 30 years, Korepanov has been restoring the life of his small homeland.
— Two things — grow bread and defend the Motherland — I consider it very important for me. But workforce is a big problem. Somehow they invited me to a vocational school. An oilman spoke before me, and to his question "Who wants to extract oil?" 15 people raised their hands. Then I came out and began to talk about our life… What do you think? Not a single one wanted to connect life with agriculture. Laws are needed at the federal level so that young people want to work in the countryside.
Today there is a small museum in Muvyr. Two books have been written about the village. The other day, after the sowing season, the villagers gathered for the Gerber national holiday. And in in August, the Village the soul of Russia».
— The more villages, the more developed land and grain in bins. This means that the Russians are full, satisfied and work calmly, not thinking about the bad things. So the soul of Russia is really in the village.
Rate the material