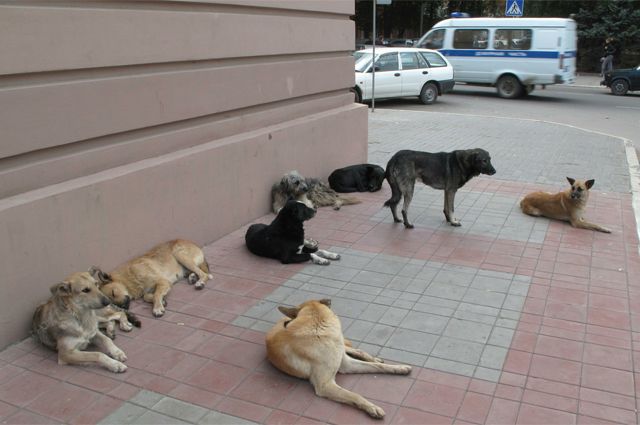 Baby packs outside the garages. Lured flocks at the shops. Lured flocks at countless warehouses. And who are the owners of all these watchdogs? The one who "just gave the dog a sausage" cannot be considered the owner. So, there is no one to ask, in which case, there is no one.
Does humanism have limits?
The press service of the ICR for the Krasnoyarsk Territory and the Republic of Khakassia announced the initiation of a criminal case on causing death by negligence: "According to preliminary data, the deceased girl was returning home at night on July 17 from her friends. At 06:00 local time, the girl's body was found on the street in the village of Chirinda, Evenki District, Krasnoyarsk Territory, with bitten head and body injuries. Presumably, the injuries were the result of an attack by dogs.
A few days earlier it was reported that a bill was submitted to the State Duma of the Russian Federation, which refers to the permission to kill aggressive stray dogs in self-defense. The initiative was taken by the Altai Territory Legislative Assembly, which is quite understandable — It was in the city of Aleysk, Altai Territory, that in January of this year, a pack of stray dogs attacked children during a walk in a kindergarten. However, the Altai deputies are not limited to cases of self-defense. The Legislative Assembly insists on a ban on the return of animals from the shelter to the street and expanding the list of situations when an animal in a shelter is subject to euthanasia.
Animal rights activists and shelter workers, as expected, were indignant and even found support. "There is no humane euthanasia. Murder is murder, — says State Duma deputy Vladimir Burmatov. — This is against federal law. And the prosecutor's office should look into this and pay attention to the contradiction of this initiative with federal legislation.
"Call Lavrenty Palych!"
So, there are two camps. Representatives of one adhere to humanistic views, according to which the killing of animals is unacceptable. Representatives of the second insist that the law "On the responsible treatment of animals" needs to be tightened, since the current scheme for stray dogs: "Catching — sterilization — vaccination — return» does not work.
She doesn't really work. That is, it works, but in such a way that it would be better not to. Any "dog lover" will say that sterilization removes only one type of animal aggression — sexual, which manifests itself seasonally. All other types of aggression remain with the animal all year round. And the person who got into the "wrong" place, has every chance to experience them for yourself.
And such "wrong" there are plenty of places. And they can happen spontaneously. It's no secret that many of our compatriots are prone to what is sarcastically called "sausage humanism." Let's say you're walking out of a store, and there's a flock of pretty little "shawls" wagging their tails. Well, it's a sin not to spare them a sausage, the dogs are poor, unfortunate, but they won't lose from me …
That's right, it won't. It will not decrease from a few dozen more people who go to this store. Perhaps the dogs will not touch them in which case, although this is not certain. But any "stray" taking a big risk — animals jealously guard "their" territory. Someone, by the way, uses it intentionally — here an episode from the film by Eldar Ryazanov "Promised Heaven" immediately pops up in my memory. The one when the employees of the executive committee come to the dump where the homeless live in order to put pressure on them and clean up this hotbed in a good way. Well, the head of the homeless community, performed by Valentin Gaft, commands: "Katya! Call Lavrentiy Palych!" And immediately a huge dog flies out with a growl, at the sight of which the employees of the executive committee, and the policemen too, shamefully flee.
Dog — only for help?
Baby flocks near garages and parking lots. Lured flocks at the shops. Lured flocks at countless warehouses and industrial zones. And who are the owners of all these watchdogs? And it's like they don't exist. The one who "just gave the dog a sausage" cannot be considered the owner. So, there is no one to ask, if something happens.
However, where do these flocks come from? The scheme, which includes capture, sterilization and return, has been operating for a long time. In theory, the natural self-reproduction of dog packs should have stopped by now. Why does the number of stray dogs not decrease, and their aggression does not subside?
There are different opinions on this matter. Others are known for certain — replenishment of these same flocks goes in an unnatural way. Now anyone can get any dog ​​they want. And then just throw it out into the street, because there is nothing to feed it. It happens that they get a puppy for pampering, and when he grows up and gets bored, he is "forgotten"; on the road or in the country. This also includes culling from unscrupulous breeders affected by the virus of "sausage humanism"…
If we are to think wisely, then this same "any person", acquiring a dog, must undergo a mandatory training course in a special institution with the appropriate equipment, with a playground and an instructor. A sort of cross between a driving school and a car repair shop. With all the attached certificates about the psychiatric and narcological dispensary at least. Plus a rigorous exam at the end of the course. If you do not pass the dog ownership test — went away. If you can't keep it — there.
Again, accounting. He must be strict. When registering all dogs, it is mandatory to provide electronic chips with relevant information. This will help to find "losers" and will help to ensure that dogs are not thrown out into the street. Everyone should have access to the chip database, and first of all, veterinarians and the police. Because if a free-roaming dog is caught, its owner should face such a fine that it doesn't seem enough.
And with ownerless dogs, one should act high and cruelly. Catch. Divide into wild and conditionally neglected. The first to ruthlessly put to sleep — they are dangerous and unnecessary. The second ones should be chipped, trained and, if possible, used as guards of the same warehouses or industrial facilities. But, again, those who intend to protect their goods in this way should be responsible for them.
If a bill submitted to the State Duma provides for something similar, it can and should be welcomed standing. If there is no — it remains to breathe and be ready not only for the news about people bitten to death by stray dogs, but also to try on this sad fate for yourself or your loved ones.
Opinion the author may not coincide with the position of the editors
Rate the material